Description
Xiaomi Mijia Electric Folding Scooter M365, Smart APP
Xiaomi released its M365 electric scooter recently. Boasting a unique folding design, Xiaomi M365 electric scooter has been made from aircraft-grade aluminium alloy and weighs 12.5kg. Further, it adopts advanced E – ABS braking system, kinetic energy recovery system, cruise control system and intelligent BMS system. Smart and practical, as well as beautiful, you will love it!
✔ It works as easy as it looks
✔ Minimalistic Design Uniform Geometric Design Elements
✔ Made for comfort — curved pedal board
✔ Folds up — simple folding levers
Key features:
It develops in 3 simple steps. Flip, fold, clamp. Simply flip the folding lever to fold, and the scooter bell catches the latch on the rear wheel. The result is a compact and secure folding design that is perfect for stacking your Mi electric scooter. At home, in the office or in the trunk of a car.
Aerospace Aluminium Frame Weighs only 26.9 pounds. Robust Frame made of aerospace aluminum, which has a low density and high structural strength. It also has excellent thermal conductivity and corrosion resistance for added strength. A total of 26.9 pounds, the Mi electric scooter is a large portable size and weight for carrying and for maneuvering stairs and walkways.
Anti-slip handle provides excellent grip and scooter control, even for longer rides. Controlled acceleration give the accelerator a soft push down and adjust the amount of pressure until you reach a comfortable speed.
Battery life, 4 LED notifications on the dashboard indicate battery life remaining. Power control buttons One click to turn on. Press long to turn off. When Mi electric scooter is on. A short one press will turn on / off the headlights. Double tap to switch between normal and power saving modes.
Ultra bright backlight with headlights. Headlights are necessary for night driving, but not all scooters have them. Mi electric scooter. Ultra-bright 1.1-watt headlights with a range of up to 6 m for added safety.
Red taillights for braking. Red taillights glow brightly when braking as a warning to other pedestrians and vehicles on the road.
Front and rear dual brake system. It has disc braking and regenerative anti-lock braking system eABS for effective. REACTIVE brake distance only 4 m.
Damping tires for a smoother ride. Large front and rear tires with a size of 8.5 inches have excellent shock absorption and anti-slip treads. Combined with 250W brushless. DC motor for stable power output, Mi electric scooter is installed to provide a smoother riding experience.
30 km long-range battery with smart power management. Several high capacity 18650 mAh lithium batteries supplied by LG provide up to 30 km of trips per charge. Smart battery management through the application displays the status of the battery and notifies you immediately if there are problems.
Trip statistics in the app – Turn your smartphone into a dashboard. Simply connect your Mi electric scooter via Bluetooth and use the app to view your current speed,
Remaining power and other real-time data. Firmware updates ensure that you will always have the best riding experience.
Cruise control – Using the technology of cruise control in cars, Mi Electric Scooter uses a unique algorithm that gets input signal from speed sensors to maintain a smooth and stable cruise control. This reduces stress and fatigue for riders, and also optimizes the battery for longer rides.
Dual Braking System
1. Equipped with dual-brake systems :ventilated disc brake system and E-ABS anti-lock system.
2. The front wheel has E-ABS anti-lock system, while the rear wheel uses mechanical disk brake can achieve efficient braking fast response, braking distance as short as 4 meters, making your riding much safer.
3. 18650 lithium-ion battery pack, BMS battery management system
4. Powered by 18650 lithium-ion battery pack with a battery capacity of 280Wh and offering an overlong cruising distance of 30km, It adopts intelligent BMS battery management system.
5. You can know the battery conditions through the APP downloaded in your mobile phone
6 protection functions
Short-circuit protection, over-current protection, overcharge protection, over-discharge protection, low-voltage protection, and temperature anomaly protection
Kinetic energy recovery system
1. The electric scooter has a kinetic energy recovery system that converts kinetic energy into electric energy and offers a better battery life
2. 3 seconds quick folding design, stable and convenient
3. Innovative folding design, the bell hook and the rear fender hook clever combination, in ensuring the overall appearance of the design
4. Aviation-grade aluminum alloy body, light to 12.5kg
5. Mimi home electric scooter use of aviation-grade aluminum alloy as the main load-bearing material, with a lower density but higher strength characteristics, And has excellent thermal conductivity and corrosion resistance. Net weight of about 12.5kg, whether it is working or living environment can easily take.
6. IP54 waterproof to have good performance in wet ground, sand
Inductive LED rainbow sets: Driving lamp, taillight, turn signal lamp, brake lamp
7. Smart APP:It can track your cycling habits, riding speed, battery life, etc.
Intuitive and easy to learn | 18.6 miles long battery life
Double brake system | Portable folding design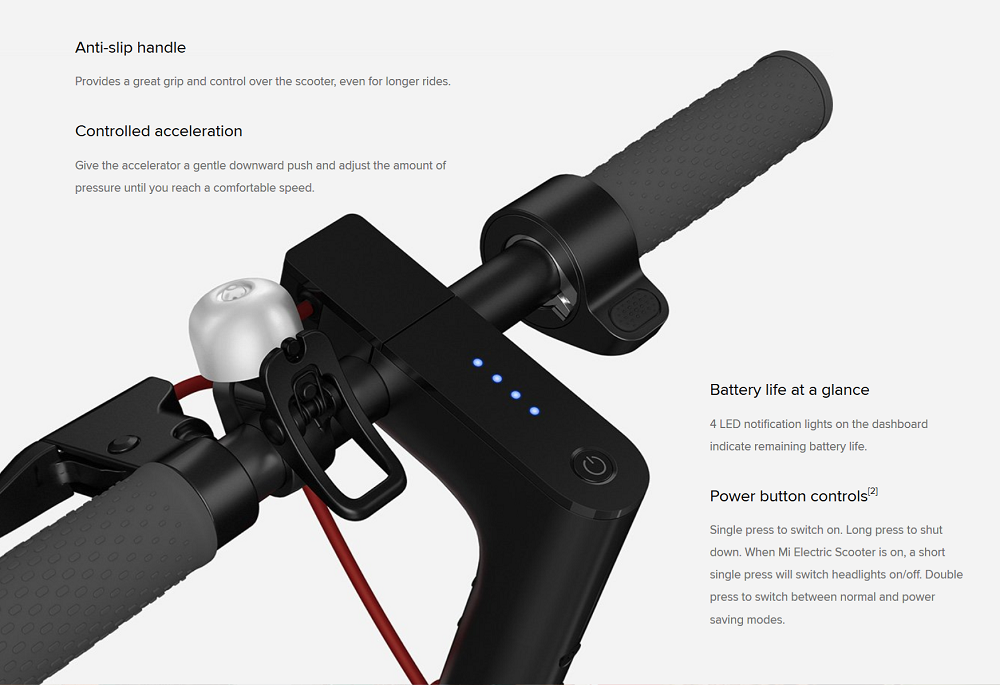 ---
OUR GUARANTEE
Shopping online should be enjoyable and we want you to love your experience with us! If you have any problems with your order or aren't satisfied with your product, just let us know and we'll get you another product in the mail or your money back! We will do WHATEVER it takes to make sure you are 100% satisfied with a risk-free 30 day guarantee.
We have 24/7/365 Email Support. Please contact us if you need assistance.
Shipping Info
All Shipments are trackable through USPS tracking (or your local mail carrier). Due to high demand, please allow 5-12 business days for delivery, applies to high volume orders.
Refund Policy
We accept returns within 30 days from date of delivery of the item only in the case of damaged, defective or wrong products received. For honorable returns, your item must be returned in the original condition received within 30 days for a full refund or exchange.
We use Encrypted SSL – Security to ensure that your Check-Out information is 100% protected.
Click ADD TO CART To Order Yours Now!
100% Satisfaction Guaranteed With Every Order.